Westwood Gardens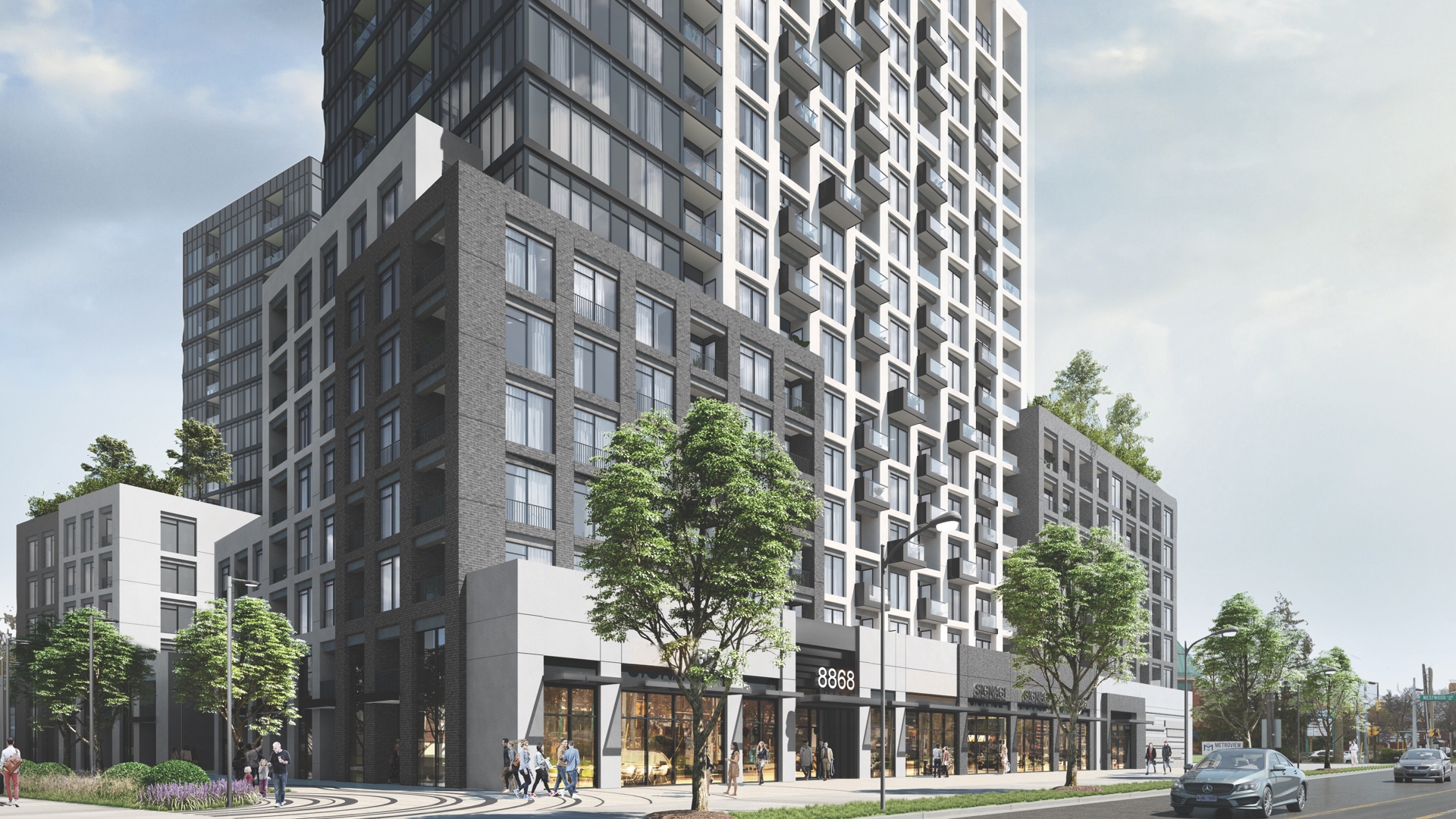 Project Type
High-Rise Residential
Architect
Kirkor Architects
Interiors
Tomas Pearce Interior Design Consulting Inc.
Landscape Design
Land Art Design
Collecdev is proud to bring Westwood Gardens to Richmond Hill—and the development industry has responded in kind by awarding us for our ability to communicate our strategies to the community and to achieve architectural design excellence through environmentally sustainable initiatives.

Designed by Kirkor Architects and a host of respected consultants, our thoughtful suite layouts are designed for two targeted groups: entry-level buyers wishing to move into their first home; and empty nesters who are looking for luxury living with the convenience of owning a condominium property in either of the contemporary towers in the heart of Richmond Hill. One of Westwood Gardens' special features is the design of ground-oriented townhouses with landscaped patios, private entrances and two-storey living with a curated palette of interior finishes. Located at 8868 Yonge Street, our development offers brilliant architecture and timeless design, a collective vision to enhance the neighbourhood while offering a liveable housing alternative in this area of the GTA.

Well-connected to transit and close to Richmond Hill's cultural amenities, the completely landscaped site also provides the basis for a geothermal system that will afford inexpensive, easily maintained and renewable energy to heat or cool the buildings. The development will also include electric vehicle charging stations—an amenity that we recognize as a growing trend amongst condominium buyers.

Carefully considered amenities at Westwood Gardens will offer residents contemporary comforts and abundant opportunities to socialize and entertain. For example, in the west building there is a yoga studio, fitness centre, media lounge and a catering kitchen. In the east tower, there is a sports court, weight room and sauna. A rooftop terrace will offer residents an outdoor oasis with natural stone floors and planters, inlays of bronze and blonde wood and a dramatic outdoor fireplace. Connecting to the city with convenience is assured from this coveted home base located in an easily accessed and peaceful environment—an address that distills the best of modern living.
Sustainable Features
Enjoy the peace of mind that comes with a reduced carbon footprint and reduced maintenance fees at Westwood Gardens. Featuring an innovative geothermal system that cuts harmful emissions by over 70%, living the green life has never been so easy. Learn how geothermal technology benefits residents and the planet below.
Energy Savings
Relative to a MNECB (Model National Energy Code for Buildings) compliant reference building, Westwood achieves a 35% energy savings
Storm Water Usage
Achieve a 50% reduction in potable water usage for irrigation by collecting and storing runoff
Energy Efficiency
Occupancy sensors on lighting installed in the parking levels and LED lighting on building exterior to reduce energy usage
Waste Sorting & Collection
Tri-sort garbage chute installed in both buildings
Urban Heat Island Reduction
Municipality heat reduction techniques used on site's hardscape to reduce heat island effect
Building Insulation
Pre-cast stone exterior used in place of all plate glass to better insulate building leading to less extreme temperature swings, meaning that less energy is used to heat and cool the building and suites
Geothermal Economics
Because a majority of the energy for heating and cooling is coming from the earth Geothermal is also less expensive to operate and maintain, which reduces the exposure to unexpected energy fluctuations and equipment repairs which impact condo fees over the life of the building. This means that the building as a whole will enjoy lower monthly maintenance fees and long term predictability which we can all appreciate. Ontario has recently imposed a carbon tax which impacts the operating cost of buildings utilizing natural gas. Because we no longer use natural gas for space heating or fresh air the financial exposure to future carbon tax increases is greatly reduced.

The Long term the resale value of your suite should remain higher and be in higher demand. Potential buyers will appreciate that the building is comfortable, secure, affordable and a reduced carbon footprint compared to other buildings.

While the cost of energy sources like natural gas and electricity cannot be predicted, Geothermal energy is provided through a fixed long term agreement that spans over thirty years. That means a significant portion of the building's operational budget can be predicted year over year. This predictability helps building managers reduce unforeseen costs which can impact condo fees. This arrangement also provides a performance guarantee which removes the operational burden of the geothermal system from the condo corp.
Geothermal And The Environment
Climate change and carbon reduction is top of mind and we at Collecdev want to do our part by creating a product with the lowest possible carbon footprint. By choosing Geothermal, we are helping to reduce greenhouse emissions in a significant way.

By displacing most of the natural gas usage, the building will reduce harmful greenhouse gas emissions by over 70% per year compared to a conventional building. That's the equivalent of taking over 140 cars off the road every year!!

By eliminating cooling towers we also save over 5 million litres of water per year, and eliminate the need to dispose of harmful chemicals typically used by cooling towers.
Geothermal Comfort
Security is top of mind for all of us, and it is comforting to know that Geothermal is always available. The renewable energy source is directly below the building and cannot be interrupted by storms, labor disputes or other events. Even if the power goes out, emergency generators on site will keep the system running going regardless of what's happening outside. How's that for peace of mind? Because the Geothermal system has an infinite life span it will actually outlast the building itself.

In suite comfort is personal, which is why we believe owners should be able to decide what temperature their suite should be. In many buildings, the in suite temperature is dictated by outdoor temperatures, the season or even building managers. With our system, the owner is in full control, and heating or cooling is available on demand no matter the season or outdoor conditions. Each VRF unit controls the exact amount of cooling or heating that makes you happy. Regardless of your neighbours space or the building in general, your comfort is under you control.
Neighbourhood
From this coveted address, everything will be accessible and anything will be possible. Small town sensibility. Big city amenities. The best of all worlds, keeping you well connected, and eternally Yonge at heart.
Ransom Park is located on Yonge Street in the heart of old Richmond Hill, close to a range of amenities. This popular destination has comfortable benches and beautiful landscaping.
Located at Yonge and Highway 7 in a plaza in the heart of Richmond Hill, this modern multiplex cinema chain screens the latest Hollywood films, plus new independent releases.
Located in the heart of Richmond Hill, Hillcrest Mall has an outstanding collection of lifestyle retail including Sporting Life, Aritzia, Sephora, Pandora, H&M, and Hudson's Bay.
From kindergarten to post-secondary schools, Richmond Hill scores top marks in education. Your path to learning begins here.
Enjoy easy access to Richmond Hill's best shops, restaurants, and cafes, plus GO and Viva Transit, the new Yonge Street rapidway, and the 407 and 400-series highways.
With a slate of fabulous neighbourhood restaurants, offering international cuisine, you can satisfy your taste for travel without ever leaving Richmond Hill. Bon appétit!
This 43,000 square foot venue delivers a full season of world-class shows featuring top Canadian and international artists and sensational live performances.
A state-of-the-art Fitness Centre offers a total workout regime for body and mind. Facilities include cardio studio with treadmills, elliptical and spin bikes, and more.