30 Tippett Rd, Toronto
Welcome to TRETTI, a fully formed community with one simple vision: create a lifestyle designed for the way people really live. Suites with clean lines and multi-functional design.
Overview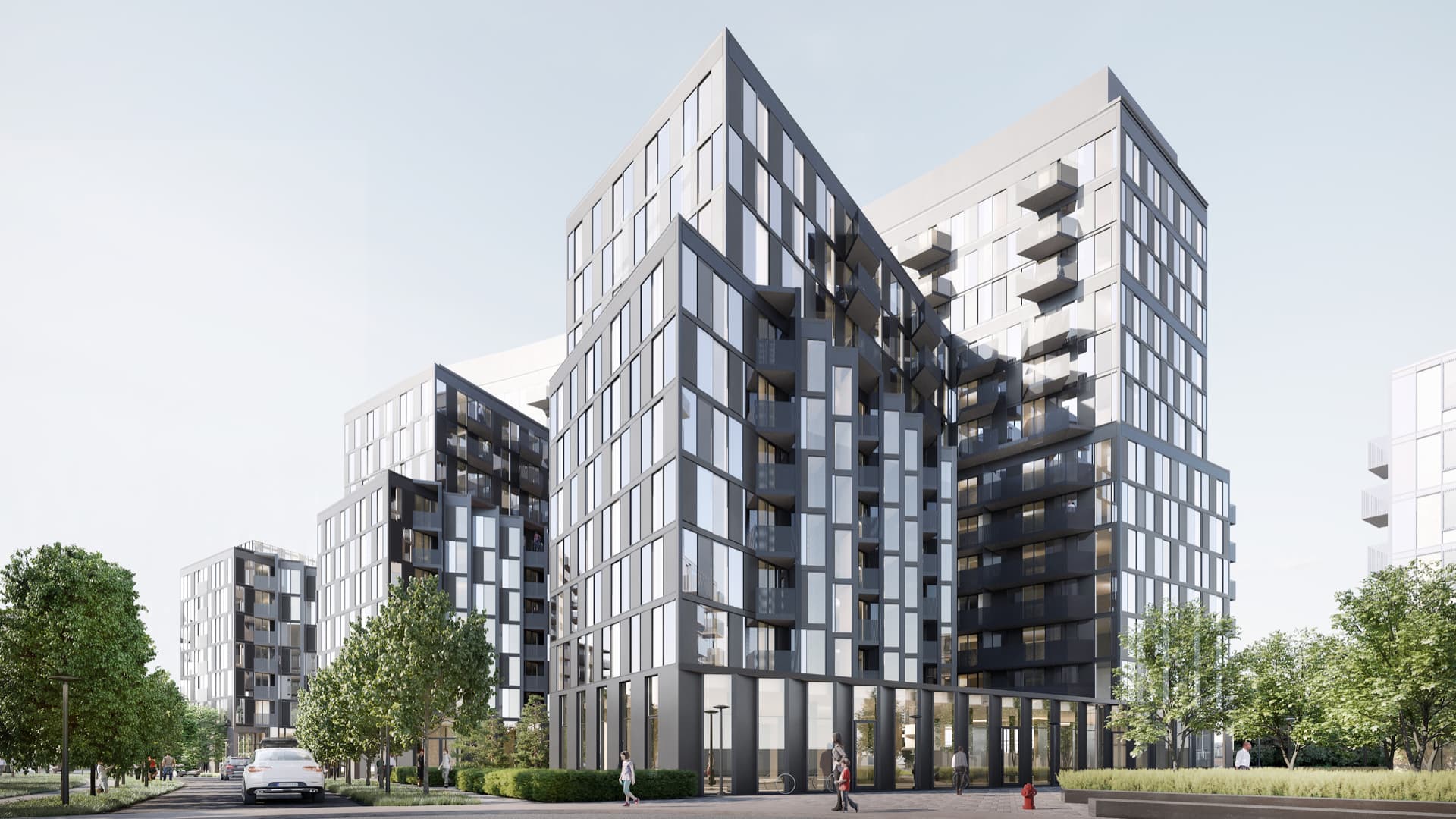 Coming Soon to Wilson Heights Steps to the Subway Starting from the mid $400s
Welcome to TRETTI, a fully formed community with one simple vision: create a lifestyle designed for the way people really live. Suites with clean lines and multi-functional design. A connection to nature that expands your point of view. A vibrant urban location steps to the subway, close to Yorkdale Shopping Centre, in the heart of Wilson Heights.

It's Scandinavian style with a Toronto address. And it's ready to welcome you home.
Register
Register now to receive exclusive information on our upcoming project.
Neighbourhood Blogs
Neighbourhood
Bringing green living to Wilson Heights
June 19, 2019
READ MORE
Finding an affordable condo near public transit isn't easy these days. And finding one that also boasts of noteworthy architecture and plentiful green space,...
Finding an affordable condo near public transit isn't easy these days. And finding one that also boasts of noteworthy architecture and plentiful green space, is a major accomplishment.
Tretti Condos, steps from Wilson subway station, claims to tick all of those boxes. Designed by gh3*, the uniquely shaped building with a gently curving spine and three "wings" stepped down from the roofline offers sheltered courtyards where children have a playground and adults have outdoor space. Plus, there's a wide pedestrian path and 11,000 square feet of ground floor retail.
The suites are designed to maximize natural light, with views of lush landscaping. Interior designer Carmen Dragomir, of esQape Design, placed bedrooms on either side of the central living and kitchen area to give them a more spacious feel.
"Design has a certain way of shaping our lives, our sensibility, our behaviour, even our emotions," Dragomir says, noting she kept that in mind at Tretti.
LIVEABILITY
The liveability factor was also important for Maurice Wager, the developer Collecdev's president. Generally, units aren't getting bigger these days, he says. "And if you reduce the size, you have to make sure the layout works."
Tretti's 340 suites have a standard package that includes stainless steel appliances, quartz counters, and porcelain tiles in the bathrooms.
The amenity package, also designed by Dragomir, is generous as well. There's a fitness studio, a party room with a catering kitchen and access to an outdoor terrace and BBQs. In addition, the condos have a 24-hour concierge service, a co-working station and private meeting rooms.
Millennials and families are expected to be among the buyers and so Wager wanted to include space for those who work from home and family-friendly features such as an indoor/outdoor playground and a pet-grooming studio.
At just 13 storeys, Tretti falls between a mid- and high-rise height, and makes the 340 suites feel reasonably spread out.
Architect Raymond Chow, principle of gh3* which also designed the Rocket condo down the street from Tretti, says the courtyards help with that human scale, "by breaking down the overall mass of the building, and stepping down from the 13-storey height toward the park."
Green space plays an important role here, shielding the community from the noise and congestion of the Allen Expressway, and connecting the neighbourhood to the Wilson subway station with a path for pedestrians and cyclists. And a park by the front door is connected to a 16,000-square-foot green space.
Wilson Heights itself, is a neighbourhood in flux. It was earmarked for regeneration in 2015 on the city's master plan. Wager snapped up the plot of land by the subway in 2016. And the following year, the University-Spadina subway line was extended to Vaughan Metropolitan Centre.
From the beginning, Wager envisioned a site that would be beautiful, affordable and a good place to live. And given his background in architecture and urban planning — from the University of Toronto — he was also committed to a development that was energy efficient.
To increase Tretti's natural insulating power, it will be built with more solid wall as opposed to glass. A geothermal heating and cooling system will use 40 per cent less energy than conventional HVAC systems, reduce water consumption by 50 million gallons per year, and is expected to cut overall carbon footprint by more than 70 per cent.
ROOF-TOP FUN
Green roofs will reduce the heat island effect, divert stormwater run-off for collection in cisterns (to be reused for irrigation) — and provide a lush backdrop to the rooftop space with its BBQs and cabanas. And the staggered balconies will attract more light in the winter when the sun is lower on the horizon, while limiting light in the summer when the sun is higher.
No discussion of liveability can be had without talking affordability, Wager insists. He's devised a program called Collecdev H.O.M.E (home ownership made easy) in collaboration with Toronto Affordable Housing Office, which offers an interest-free, down payment assistance loan.
"A lot of people can make monthly payments," reasons Wager, "because a mortgage isn't dissimilar from paying rent, but the big barrier is that 15-20 per cent deposit." The loan is being offered with strings – you must currently be a tenant, and a first-time homebuyer with a maximum household income of $88,900.
The condos are priced from the mid-$400,000s and occupancy is slated for August 2021.
To register and for more information phone 416-640-2543, email info@collecdev.com, or visit website collecdev.com/developments/tretti-condos/
YOU ARE HERE
1) Getting around. A new urban park, with pedestrian and cycling trails is being created in the area. And the Finch West LRT expansion will add 18 new stops.
2) Get smart. York University and Seneca College's York U satellite campus are 10 minutes away. And the Downsview Aerospace Innovation and Research Hub – a joint project with academics and industry – is being built at the nearby Downsview Park.
3) Looking for fun? The Barry Zuckerman Amphitheatre offers theatre and music. Black Creek Pioneer Village provides a window on the past. And Fountainhead Park has tennis courts and a multipurpose sports field.
Source: National Post
READ MORE
Proximity to public transit boosts property value
May 27, 2019
READ MORE
The world of real estate has evolved quite a bit over the last three decades. Today we have apps that help us find homes, virtual 3D tours that let us experience spaces before they're even built, and smart phones that put the act of purchasing in the palm of our hands. But despite all this change, there is one age-old real estate adage that still holds true, location, location, location. Today, where you choose to purchase a home is still among the most important factors in determining quality of life and long-term value.
PROXIMITY TO PUBLIC TRANSIT BOOSTS PROPERTY VALUE
A study of several major US cities showed that properties located in close proximity to public transportation outperformed the market by an average of 42% (in some cases by nearly 130%). In New York City, home values on Manhattan's Upper East Side went up sixfold after the completion of the Second Avenue subway. And while the precise numbers for Toronto aren't documented, one thing is clear: proximity to transit is an important factor in purchasing a new home, especially for first-time buyers.
Access to transit provides all kinds of benefits for homeowners, from reduced costs (bye bye soaring gas prices and monthly car payments, hello Metropass!), shorter commute times, lowered stress, cleaner air, and more walkable neighbourhoods. A report released by The Center for Neighborhood Technology states,
"Consumers are willing to pay more for housing located in areas that exemplify new urbanist principles or are traditional neighbourhood developments.' These neighborhoods are walkable, higher density, and have a mix of uses as well as access to jobs and amenities such as transit."
It's the very principle we use at Collecdev to determine the best location for new projects like TRETTI – as the city continues to grow, what sites will give residents convenient access to green space, culture, retail, amenities, and community, while keeping them connected to anywhere they want to go?
TRETTI GETS TOP MARKS
You may not be familiar with Redfin, a Seattle-based real estate data and analytics company, but you're probably familiar with their work. In 2007 the company launched Walk Score (followed quickly by Transit Score), two markers that have become a popular measure of the convenience and desirability of any address. And according to the data, TRETTI is a "Rider's Paradise."
With a Transit Score of 98 (out of a possible 100) and a Walk Score that puts many neighbourhood conveniences just a few steps away, TRETTI is the type of community where homes, jobs, and leisure activities intersect, creating the perfect backdrop for an active lifestyle with a smaller carbon footprint.
Located firmly within the 416 (the original benchmark for Toronto living), TRETTI keeps residents connected to the neighbourhood, to the GTA, and to the downtown core. In less time than it takes to watch an episode of Brooklyn Nine-Nine (and for less than what you'd spend on a Starbucks Venti latte) you can be at Union Station. In roughly 20 minutes you can be at the airport, en route to anywhere in the world!
LONG TERM VALUE
The trend toward intensified urbanization isn't stopping any time soon. Toronto's downtown core population is forecast to increase by 83% over the next 12 years and, as it grows, so too will the demand for transit services and communities built around key transit lines, providing residents with easy access to everything they need, without the hassles of a car or a long, traffic-riddled commute. Buyers (and renters) will continue to opt for convenience over space, seeking homes where a subway ride is just steps from their front door. And for homeowners, that means the security of knowing that proximity to the Red Rocket will boost property values for years to come.
Ready to invest in one of Toronto's most connected communities? Register for Tretti Condos and find a home in the heart of the action. Don't get left behind. Register today.
READ MORE
Blogs
The unprecedented rise of Wilson Heights
April 10, 2019
READ MORE
In a city where opportunity and explosive growth have become the norm (Toronto is now home to more building cranes than any other city on the planet), it's tough for a neighbourhood to stand out, but Wilson Heights is rising above the crowd, quickly becoming one of the city's most vital hubs for investment, innovation, and growth.
That growth can be seen everywhere, from expanding transit, to parkland redevelopment, from booming employment hubs, to higher education within easy reach. All three levels of government recognize the incredible opportunity in the area, and, together, have committed more than $3 billion to its regeneration. Here is a look at what's taking shape.
WORLD-CLASS PLANS
Development plans include the most ambitious collection of newly emerging master-planned communities in Toronto; the redevelopment of Downsview Park as a National Urban Park; an extensive network of new pedestrian and cycling trails; an ambitious Finch West LRT expansion that will see an 11-kilometre light rail transit line with 18 new stops; the addition of 42,000 new jobs and residents at the Downsview Lands; and the Toronto-York Spadina Subway Extension, that will connect Wilson Heights all the way to the Vaughan Metropolitan Centre (an area with plans for 36,000 new jobs and residents) in just seven subway stops, bridging the distance between Toronto and the GTA.
A CITY WITHIN A CITY
But nowhere is the astonishing potential of this neighbourhood more evident than in the Downsview Airport Lands (formerly the Bombardier Lands), an unprecedented 375-acre development opportunity set to become a city within the city. In 2018 the sale made headlines – a parcel of land big enough to create a true mixed-use development, a modern urban paradise that will open up amazing new opportunities for business, retail, housing, and leisure.
An article in the Financial Post highlighted the almost incomprehensible scale of the project (10 times larger than Liberty Village or Concord City Place), comparing it to New York's Hudson Yards and Canary Wharf in London. At a glance:
Hudson Yards, NYC
Added 17 million square feet of new residential and commercial space
Home to 100 new shops and restaurants
Introduced 5,000 new residential units
Considered one of the largest private development projects in the recent past
Canary Wharf, London
Added 16 million square feet of office, retail, and leisure space
Home to 300 restaurants and 37 office buildings
Introduced 120,000 new jobs
Considered one of the most coveted business locations in Europe
The Airport Lands at Downsview dwarfs them both, ringing in at nearly 4x the size of Canary Wharf, and 15x the size of Hudson Yards.
In use as an airport, the site imposed necessary height restrictions on surrounding new developments, but when redeveloped, those restrictions will be lifted, reopening the current low-rise and mid-rise plans for the Downsview Lands and paving the way for astonishing growth. Current plans will generate 42,000 new jobs and residents in the area. With high-rise development, that number will skyrocket, presenting an opportunity of global scale.
STRONG BUSINESS GROWTH
Even before the development of the Airport Lands, the Wilson Heights community is already home to nearly 100,000 jobs with internationally recognized employers like Bombardier Aerospace, RBC Royal Bank, Humber River Hospital, Nestle, Randstad, and the TTC. The local business hubs around Dufferin, Keele, and Highway 400 are seeing, on average, double-digit employment growth, creating promising opportunities for professionals at every level and boosting the area's already high average household income. And the development of Downsview Lands (five mid-rise communities) will add 42,000 new jobs and residents to the scene, followed by hundreds of thousands more when the Airport Lands are redeveloped.
TOP TIER EDUCATION
Employers will find a wealth of highly educated eager young minds, fresh from York University and Seneca's York U satellite campus, both located nearby. Today, over 50,000 students commute to the campuses, with an average commute time of 1 hour or more, and over 6,000 international students are on the hunt for rental accommodation nearby. The area's highly anticipated new residential developments and the recently completed York subway station, will put Wilson Heights within a 10-minute subway ride from the York University campus.
The area is in high demand, with students (and their parents) willing to pay a premium for smart, well-designed rentals in this hub of connectivity and convenience. The subway is also just a 17-minute ride to St. George Station and The University of Toronto, putting Wilson Heights within easy access of some of the country's most esteemed educational institutions.
In addition, the development of the Downsview Lands Aerospace Hub, led by leading aerospace companies and postsecondary educational institutions in the GTA including Ryerson University, introduced a state-of-the-art $70M facility for Centennial College last year, inspiring new generations to reach for the stars.
INCREDIBLE OPPORTUNITY
Between the Airport Lands, the growth at Lawrence Avenue & Allen Road, the Dufferin Street Revitalization, Wilson Avenue Revitalization, and the Yorkdale Redevelopment Proposal, Wilson Heights and the surrounding neighbourhoods will see hundreds of thousands of new residents, an extraordinary collection of new condominiums and homes, and millions of additional square feet of retail and office space added in the coming years.
This is growth and opportunity on an unprecedented scale. And in a city where the benchmark is already impressively high, this community stands apart. There truly has never been a better time to invest in Wilson Heights.
Ready to invest in Toronto's most exciting new community? Register for Tretti Condos and find a home in the heart of the action. Don't get left behind. Register today.
READ MORE
Collecdev introduces TRETTI Condos – scandinavian-inspired living in the heart of Wilson Heights
April 1, 2019
READ MORE
If Instagram, Pinterest, and a million design blogs are to be believed, Scandinavian design is having a major moment. This positions Tretti Condos, a...
If Instagram, Pinterest, and a million design blogs are to be believed, Scandinavian design is having a major moment. This positions Tretti Condos, a Scandinavian-inspired community by Collecdev, as the perfect new home. But, true to form for the socially-conscious developer, Tretti doesn't just pay lip service to the northern European aesthetic.
"The ethos of Tretti celebrates craftsmanship, function, and social connection," says Collecdev President, Maurice Wager, "which are the inherent values of Collecdev. We believe that good design and a true connection to a thriving community should be accessible to everyone. That's what we're delivering at Tretti."
Sitting in the heart of Wilson Heights, a stone's throw from Yorkdale Shopping Centre and steps from the subway, Tretti offers 13 storeys of understated modern design. Minimalist architecture by award-winning firm gh3* maximizes form and function, giving way to bright open-concept interiors outfitted in a palette of natural finishes that transition seamlessly to the outdoors.
The striking combination of contemporary architecture, elegant interiors, and a strong connection to nature satisfies Collecdev's commitment to experiential design. It allows the developer to create human-centred communities that display a fundamental understanding of the way people truly want to live.
That commitment extends not only to the community, but to the environment and to society at large through initiatives such as innovative geothermal energy systems that reduce the negative impact of urban development, and Collecdev H.O.M.E. (Home Ownership Made Easy), a program that will help more people realize their dreams of homeownership at Tretti, and ensure the city's long-term accessibility and growth.
Speaking of accessibility, Tretti residents will enjoy convenient access to a neighbourhood bursting with parks, shopping, bars, restaurants, and bakeries. Fill up on style at Yorkdale Shopping Centre. Bike to Downsview Park. Sample Wilson Heights' diverse eateries. Or commute easily to York University, Humber River Hospital, and Hwy. 401. But it may be hard to tear yourself away from the incredible lineup of amenities on site.
Tretti will feel like a breath of fresh air with outdoor spaces that include expansive terraces, a rooftop fireside lounge, a children's playscape, private courtyards, a 16,000 sq. ft. community park, and more than 100 trees creating an urban forest in the heart of the city.
Little ones will find room to grow in the children's play area, offering cosy reading nooks and a stage where imaginations can run wild. Four-legged family members will love the pet-friendly indoor playground and washing station. The modern lobby, elegant dining room and lounge, and state-of-the-art fitness studio create natural gathering points, places to entertain, relax, play, and interact. And, lest you think work has been forgotten, Tretti features a collaborative co-working space, designed for freelancers and digital nomads seeking a place to be productive, connected, and inspired.
With multi-functional design, thoughtful amenities, a vibrant community, direct subway access, and spacious two-bedroom suites priced from the $400,000s, Tretti offers incredible value, truly the best of all worlds. It's Scandinavian style with a Toronto address. And it's ready to welcome you home.
Source: Condo Life Magazine
READ MORE
TRETTI – in 5 minutes or less
March 5, 2019
READ MORE
The headline of this post might have you believing that we're here to talk about Tretti and to tell you everything you need to know about this...
The headline of this post might have you believing that we're here to talk about Tretti and to tell you everything you need to know about this Scandinavian-inspired, multi-layered community in less time than it takes to grab your morning venti latte. We'll do you one better – we can do it before you even finish this intro. Ready? Tretti is the embodiment of Scandinavian philosophy in the heart of Wilson Heights. With clean lines, modern multi-functional design, a strong connection to the outdoors, and social spaces that promote a healthier way to live, it's proof that good design is accessible to everyone.
So now you've got the goods. But what are we going to do with the next four and a half minutes? The possibilities are endless because at Tretti, all it takes is a few minutes to get you almost anywhere you want to go.

2 minutes to Wilson Subway Station
In Denmark, less than half the population owns a car. Why? Because the Danes (and their neighbours in Sweden, Norway, and Finland) know that getting around on foot, by bike, or on public transit isn't just a healthier way to travel, it's often faster, more efficient, and definitely better for the environment. Residents at Tretti have all those options available, beginning with direct access to Wilson Subway Station, just a two-minute walk from home on a tree-lined path.
3 minutes to the 401
Of course, there are times when you may want to opt to commute by car (road trip anyone?). When that happens, you'll be thankful that the 401 is just a few minutes away, ready to whisk you away on an adventure.

4 minutes to Yorkdale Shopping Centre
When you feel like browsing more than 2-million square feet of best-in-class retail (including brands like Burberry, Cartier, Holt Renfrew, Nordstrom, Apple, Tesla, Sporting Life, Lululemon, Aritzia, and more), jump on the subway and in less time than it takes to pull out your credit card, you've arrived at Toronto's most exciting retail spot.

4 minutes to GO Transit at Yorkdale Bus Terminal
If you can resist the beautiful shop windows, Yorkdale is also the spot to catch the GO bus. As Canada's first, and Ontario's only, interregional public transit system, GO Transit will hook you up with the city and the surrounding GTA.
5 minutes to Humber River Hospital
Employees at Humber River Hospital can hop in their car (or better yet, grab an Uber) and be at work in less than five minutes. For everyone else, let's hope a visit to the hospital doesn't make it on the agenda, but when you need it, it's nice to know it's close by.
11 minutes to York University
For students used to last-minute cram sessions during the commute to class, we apologize – Tretti is only an 11 minute subway ride to the York University campus (and Seneca's York U satellite). Looks like you're going to have to say bye bye to procrastinating and hello to study group. Silver lining? A shorter commute means more time for extra-curriculars, like a part-time job, family time, or hanging out with friends.

13 minutes to Downsview Park
Are two wheels your preferred way to get around? Then you'll be glad to know that Downsview Park is just a 13-minute ride away, offering kilometres of trails that wind past lakes, ponds, orchards, even an urban farm! Aim high at the Toronto School of Circus Arts. Plant the seed for healthier living at Fresh City Farms. Or heat up the ice at Scotiabank Pond, home to four NHL-sized ice rinks. With year-round concerts, sports, and activities, Downsview Park is always a sure bet for a fun time.
15 minutes to Clanton Park
Heading to Clanton Park to explore 11 acres of grass and play space, including two baseball diamonds, three tennis courts, and a children's playground? Nothing like a 15 minute walk over there to get you warmed up. Keeners can even pick up the pace and jog over in less than 10.
20 minutes to GO Transit at Downsview Park
Want another option to hop on North America's premier transportation system? Try the GO train station at Downsview Park. In just 20 minutes you can access the extensive network of lines that stretch to Barrie and beyond. Nothing is out of reach.

21 minutes to Pearson International Airport
You know those jetsetters you see on Instagram who make international travel look stylish, effortless, and never seem to break a sweat? Now you can be one of them because Tretti is a mere 21-minute drive to Pearson International Airport, meaning you can grab your carry-on and arrive in less time than it takes to watch an episode of The Good Place. Bon voyage!
27 minutes to Union Station
With amazing shopping, entertainment, dining, and recreation all nearby, you may never want to stray far from Tretti. But when you do get the urge to venture further downtown, hop on the subway and, in just shy of a half hour, you've arrived at Union Station without any of the hassle (or expense) of city traffic or downtown parking.
READ MORE
Philosophy Blogs
Philosophy
Clean, green living in north Toronto's Wilson Heights neighbourhood
May 13, 2019
READ MORE
A new park is among the green highlights of a condo project that will grow from a former parking lot in north Toronto's 
A new park is among the green highlights of a condo project that will grow from a former parking lot in north Toronto's Wilson Heights neighbourhood.
Tretti Condos, a 13-storey, 340-suite building with quick transit access — Wilson subway station is a block away — will include an adjacent park with plans for more than 100 trees to shade the site and outdoor courtyards.
Builder Maurice Wager, president of Collecdev, and Raymond Chow, principal at architecture firm gh3*, see the project as an opportunity to build a community where residents can connect with outdoors. The development, at 30 Tippett Rd., will be one of the first to transform the area along Wilson Ave. east of the Allen Expressway.
"Toronto is becoming a more urban, dense city," says Chow.
"There is a need for simplicity and an edited lifestyle. It's nice to come back to a place with space to breathe where you can detach," Chow says, in reference to the project's Scandinavian-lifestyle inspiration.
"Creating a network of open, outdoor spaces is a key to creating a vibrant community."
As well, Collecdev's commitment to environmental stewardship will manifest in Tretti Condos' focus on sustainable features within the project.
"You can do great things by building a well-designed community, but you need to consider both the macro- and micro-levels," Wager says. For example, he notes, "you can reduce the amount of commuting required by the ability to provide for all of the residents' needs within the community so they don't have to drive everywhere.
"We want this to be a true mixed-use development with community facilities, green space and retail," adds Wager of the neighbourhood that also includes Downsview Park.
The building will operate with a geothermal heating/cooling system estimated to use about 40 per cent less energy than the traditional HVAC system, including saving more than five million litres of water a year and cut greenhouse gas production by about 70 per cent.

Maurice Wager, left, of Collecdev, and Raymond Chow with gh3* Architects in Tretti Condos model kitchen with modern finishes and energy-efficient appliances. (Moe Doiron/ Toronto Star)
Also planned are green roofs to help improve stormwater management and irrigate the site. As well, water will be filtered through a permeable paving system and collected in a cistern for re-use in landscaping. Windows in the building will have bird-friendly glazing and low-reflection glass to prevent collisions.
Exterior lighting will be downward facing to be night-sky friendly and minimize the impact on the community. Indoor lighting will feature light-emitting diode (LED) bulbs to save energy; common spaces will have motion-sensor lighting to save electricity.
Bicycle use will be encouraged with bike storage rooms and parking spaces. Tretti Condos will, as well, have charging capabilities for electric cars and dedicated parking spots for car-sharing services.
The design profile of the building itself takes into account its place, situated above the Allen Expressway. "We've paid a lot of attention to the outline, because people will get a lot of long-distance views of the building," says Chow.
Condominium suites have been designed to maximize natural light. "It was a bit of a challenge," says Chow. "Every room had to have a window, because it's important to have access to light."
Suites, ranging from the mid-$400,000s to the mid-$700,000s, will be one-, two- and three-bedroom layouts, as well as two- and three-bedroom-plus-den options. Appliances will have Energy-Star rating and use 30 per cent less energy than standard appliances. There will be low-flow toilets and efficient water fixtures, as well as programmable thermostats.
Young families' lifestyles have been considered, with plans for an indoor children's play area and a dedicated outdoor kids' space. Tretti Condos will include a fitness studio, a co-working space and rooftop terrace entertaining area. And, for the furry family members, a pet-wash station is included in the plans.
"We've taken a sophisticated approach to creating community through thinking about how spaces are used and designing accordingly," Wager says.
Tretti Condos
Location: 30 Tippet Rd., Toronto
Developer: Collecdev
Architect: gh3* architects. Interior Designer: esQape design Inc.
Building: 13 floors, 340 suites
Suites: From 417-sq.-ft. to 832-sq.-ft. One-bedroom, two-bedrooms, two-bedroom-plus-den, three bedrooms, three-bedrooms-plus-den. Starting at the mid-$400,000s.
Design Features: Rooftop patio, a range of energy efficienct features, co-working space, adjacent parkland
Tentative Occupancy: August 2021
Contact:
collecdev.com/developments/tretti-condos, 416-640-6000
email info@collecdev.com, sales centre at 530 Wilson Ave.
source: Toronto Star
READ MORE
Scandinavian living is about more than just hygge
January 30, 2019
READ MORE
In 2015 The New Yorker published an article called Northern Lights: Do the Scandinavians really have it all figured out? Nearly four years later – with "hygge" an official entry in the Oxford English Dictionary, almost 2.3 million Instagram posts tagged #scandinaviandesign, and a plethora of perfectly designed Scandi-inspired lifestyle magazines on offer in home stores and hipster cafés – the answer is yes.
What's the secret to the Scandinavian mystique? Well, for many North Americans, hygge was the hook. The global appeal of the northern European lifestyle reached new levels when 'hygge' entered the pop culture vernacular.
"Hygge's been called many things," said CEO of The Happiness Research Institute in Denmark, Meik Wiking, in an interview with NPR. "It's been called the art of creating a nice atmosphere. It's been called the pursuit of everyday happiness. But it's basically building in elements of togetherness, of savouring simple pleasures, of relaxation, of comfort on an everyday basis." But while hygge might have been the starting point of our ongoing fascination with Scandinavian life, it's not the whole story.
The Scandinavian countries (Denmark, Norway, Sweden, and sometimes Finland and Iceland) are experts at more than just designing inviting lounge seating, perfecting the art of a cozy night in, and calmly eschewing classic gender roles. They're connoisseurs of a more balanced lifestyle. Thanks to universal health care, paid family leave (up to a combined four hundred and eighty days of maternity and paternity leave for every child), abundant vacation time (nearly seven weeks a year), and gender equality, Scandi citizens are free to concentrate on some of the other things in life like spending time with friends and in nature. And the good news is, by following a few small Scandinavian-inspired rituals, we can get a taste of the happy life here at home. Here are three easy ways to start.
Walk or cycle to work.
In Scandinavia exercise is a way of life. Not 6:00 am sweat sessions at your nearest F45, but regular physical activity as part of daily living. For many, that means walking or cycling to work. Almost 30% of urban-dwelling Danes cycle to and from their office and 50% of Swedes incorporate regular long walks as part of their day. Consider changing your own commute and get some exercise along the way. Simply swapping your car for the subway will get you well on your way to your 10,000 daily steps.
Turn neighbours into friends.
An essential part of the hygge life is communing with family and friends. While in Norway that might mean oysters and beer in a cabin among the birches near the fjord, here at home try engaging with neighbours in social spaces like the local coffee shop, fireside in the lounge, or in the coworking space downstairs.
Connect to nature.
Unwinding in the open air is so ingrained in the Nordic culture that they have a word for it – friluftsliv. Find your own version by starting your day on the balcony, breathing in the crisp winter air, or reading a good book under the trees outside your front door. Adopt the Swedish saying, "there's no such thing as bad weather, only bad clothes" and you'll find yourself feeling like a Scandinavian all year round.
Register today for Tretti and discover a Scandinavian-inspired lifestyle in the heart of Wilson Heights.
READ MORE
Blogs
5 fundamental design principles of scandinavian architecture
January 25, 2019
READ MORE
Over the last several years Scandinavians have set the standard for effortless cool and great design (think Acne Studios denim; the ubiquitous Fjällräven backpack; and every third Pinterest image featuring a light-filled studio expertly finished in varying shades of black, white and wood) but the roots of Scandinavian style go far deeper than hygge.
The Scandinavian architecture that we know today – design with a focus on craftsmanship, materials, and clean lines – is a response to the culture, geography, landscapes, and lifestyle of northern Europe. It's an approach that emphasizes quality over quantity, creating clutter-free spaces that provide relief from the chaos of everyday life. And it endures for the simple reason that Scandinavian design appeals on a fundamentally human level, something that never goes out of style.
Read on for the five fundamental design principles that inform Scandinavian architecture.
Design Principle #1
Functional, Comfortable, Accessible
An essential part of Scandinavian culture is the idea that good design should be available to everyone (not only the 1%). It should also focus on comfort and functionality, with flexible spaces that accommodate a variety of activities and help put people at ease.
Design Principle #2
Everything in its Simplest Form
In Scandinavian architecture, simplicity reigns supreme. You can be certain that what's included is both useful and necessary to the overall environment. Anything superfluous gets stripped away and what's left is a distilled expression of clean lines, basic shapes, and solid colours.
Design Principle #3
The Importance of Natural Light
It seems ironic that, in a place where long winter nights mean sunlight is in short supply, the people that live there are consistently voted some of the happiest in the world. It's thanks in part to an architectural emphasis on natural light. Designed to maximize light at every turn, Scandinavian architecture favours skylights, glassed roofs, and large full-length windows, as well as a pale colour palette (white, light grey, ivory) that reflects light and illuminates the space within.
Design Principle #4
Sustainability is Key
Most Scandinavian structures are built using green alternatives and sustainable construction techniques. Efficient energy systems powered by clean energy, cut costs and lower carbon emissions, which makes sense not only for the environment, but for strict Scandinavian laws as well.
Design Principle #5
Connection to Nature
Scandinavian architects are not only interested in preserving nature, but in connecting to it as well. In Scandinavian countries, a connection to nature is a way of life, so buildings are designed to offer a way to stay close to the outdoors, even in urban surroundings. That means large windows that offer clear sightlines to parks and trees, as well as the use of local materials that help projects merge seamlessly into their settings.
Lead Photo Courtesy of @maisonlab
READ MORE
6 ways to nail the scandinavian aesthetic
January 25, 2019
READ MORE
From Mies van der Rohe to da Vinci, countless artists and designers have asserted the importance of simplicity in design. But perhaps none have embraced the...
From Mies van der Rohe to da Vinci, countless artists and designers have asserted the importance of simplicity in design. But perhaps none have embraced the ethos more wholeheartedly than northern Europeans, the master arbiters of Scandinavian style.
Whether it's a new Scandi-inspired shop or café opening, or an influx on your Instagram feed, the Scandinavian aesthetic has entered the mainstream. Fitting, since accessibility is one of the five key principles of Scandinavian design (to discover the others, check out this post).
Sometimes referred to as "democratic design," Scandinavian design has always maintained that beautiful, functional products and spaces shouldn't be reserved for the wealthy, but should be accessible and affordable to everyone. We agree. And if you love the clean lines and light colours that characterize Scandi style, here's how to achieve it, without having to relocate north of the 55th parallel.
1. 50 Shades of Grey
An authentic Scandinavian interiors palette usually contains no more than four colours and they're generally a combination of white, ivory, and grey. Why? Because lighter colours help capture and reflect natural light, a scarce commodity in northern countries. Plus the palette blends well with natural wood, another trademark in Scandinavian design.
2. Clean Lines Rule
Geometric lines and shapes are a recurring theme in Scandinavian interiors. That can take the form of a sleek kitchen, with smooth clean lines, or it can mean a pop of geometric print on a pillow or two. The important thing is finding balance, so that spaces feel calm and welcoming, and furniture is beautiful and functional, but never ornate.
3. Form Follows Function
Speaking of function, the Scandinavians are masters of multi-functional design. With land in limited supply (Canada has four times the land mass of Denmark and 23 times that of Norway), Scandinavian housing prices can be quite high, leading to naturally smaller spaces. That means that every item has to do double (or even triple) duty to earn its place. It's smarter living, by design.
4. Less Is More
Scandinavian style is less about what you add and more about what you subtract. While the style is sometimes associated with minimalism, in reality, it's more about a focus on quality over quantity. Simplicity and lack of visual clutter create spaces where every item serves a purpose in the overall design.
5. Let There Be Light
The Scandinavians know the value of light… and of a well-placed accessory. Whether it's a cool fixture overhead, or functional table and floor lamps, lighting elements that improve visibility and add warmth make a big difference in countries where it's dark for a big part of the year.
6. Take a Cue From Nature
The Scandinavian love of nature is well documented. In design, that translates to the use of natural materials like quartz, stone and plenty of wood. The latter is allowed to shine, often with the grain on full display – an appreciation of its natural beauty.
Whether you bring a little Scandi into your space using the tips above, or opt for a more immersive experience, one thing is certain – the concept of beautiful things that make our life better and more comfortable has global appeal.
Lead Photo Courtesy of @ddbdesigndevelopment
READ MORE
Fitness Studio vs. Fireside Lounge : the making of an amenity program
January 17, 2019
READ MORE
Have you ever stopped to appreciate your elevator-only commute to the in-house fitness studio at 6 am in the dead of winter? Thanked your lucky stars for a...
Have you ever stopped to appreciate your elevator-only commute to the in-house fitness studio at 6 am in the dead of winter? Thanked your lucky stars for a fully outfitted kids play centre when your toddler has a play date that slipped your mind? Wondered who was sipping the bottle of Grand Cru you spotted on the rooftop terrace? Or discovered a new brainstorm buddy in the communal coworking space downstairs? These are all examples of condo amenities, an essential part of curating the perfect lifestyle for 21st century living.
In the olden days (a time before iPhones, touchscreens, and Google Home, gasp!) amenities were an afterthought, but in today's competitive condo market, purchasers are demanding new and innovative conveniences that reflect the way they want to live. That's because, just like a house, your experience in a condo doesn't end when you step outside your front door. Instead, purchasers are looking for the perfect mix of private space, the right location, strong community, and amenities that support them in their daily pursuits. But how exactly are amenities planned?
The Making of an Amenity Program
A successful amenity program requires a thorough understanding of the market and, above all, an understanding of the needs of today's condo buyers. "Developers like Collecdev are constantly seeking new ways to provide the type of common spaces that respond to the needs of residents, encourage a sense of community, and help a project stand out from the crowd. All while still making sure the economics make sense" says Collecdev VP Sales and Marketing, Natascha Pieper.
The decision to add a pet spa vs. an indoor pool, or a daycare vs. a concierge, all affect the ultimate price of a unit and the ongoing monthly maintenance fees. The secret is deciding which amenities are integral to the unique experience of that particular project (and valuable for the residents), and which ones just don't make sense.
Bringing It to Life
For example, as we considered the amenity program our highly anticipated upcoming community, we asked ourselves, How can we create a complete community for residents that improves livability and their daily quality of life? What are people looking for that would create an even better experience of home?
The answer is a collaborative co-working space that responds to the growing freelance economy where thirty percent of millennials now work from home and appreciate the convenience of an in-house commute. It means a children's play area for city-dwelling families that lets imaginations run wild. It means pet-friendly conveniences like dog runs, a pet washing station, and safe play areas that are in sync with the increasing popularity of four-legged friends. It means an outdoor rooftop lounge that acts as a de facto backyard. And it means a fitness studio that supports the growing trend in holistic health.
As people's needs continue to evolve, so will amenities. Ultimately, successful programs will be the ones that serve those evolving needs and foster opportunities for connection, helping people feel a deeper sense of home. Collecdev will be at the forefront, providing everything you need to live a healthier, happier, more inspired life, every day.
Lead Photo Courtesy of Office Snapshots
READ MORE
Amenities Blogs
Amenities
Collecdev nominated for green builder of the year
April 1, 2019
READ MORE
What if a building could be more than just a place to call home? What if it could actually promote long lasting, healthy urban landscapes and improve the...
What if a building could be more than just a place to call home?
What if it could actually promote long lasting, healthy urban landscapes and improve the quality of people's lives?
These are questions that drive our daily thinking as we plan the communities of the future. They're the foundation for the Collecdev pillars, three fundamental principles of good development that focus on Social Sustainability, Experiential Design, and Environmental Stewardship. They're the engine that propels us to pursue innovative building technologies and alternative energy sources that minimize the adverse impact of development on the natural environment. And the industry is taking notice.
Last week the Building Industry and Land Development Association announced the 2019 finalists for the annual BILD Awards and Collecdev is honoured to be a nominee for Green Builder of the Year.
"We're extremely proud to be recognized," says Natascha Pieper, Collecdev's Vice President of Sales and Marketing. "The BILD Awards highlight the best of the best and we're honoured to be included in that group, especially in a category we feel so passionately about. At Collecdev, sustainability isn't just a marketing term, it's what drives every business decision we make in our mission to create thriving communities that are part of the solution for global climate change."
This isn't the first time Collecdev has been recognized for green building initiatives. In 2018 Westwood Gardens won a Silver Award from the National Association of Home Builders (NAHB) for "Best Marketing of a Green/Sustainable Program" and won Gold for "Best in Green Sales and Marketing Strategy."
The Richmond Hill community includes an innovative geothermal heating and cooling system that will result in lower monthly maintenance fees, guaranteed performance, and predictable costs. Elimination of cooling towers will save over 5 million litres of water each year and greenhouse gas emissions will be 70% lower than conventional buildings.
Similar plans are in place for TRETTI, Collecdev's highly anticipated new Scandinavian-inspired community in the heart of Wilson Heights. We've partnered with Diverso Energy, an industry leader in sustainable development and energy-efficient building, to deliver a unique geothermal utility model that lowers construction costs, reduces complexity, helps reduce environmental impact, and adds real value to the bottom line.
Residents will still have total control of the heating and cooling in their suite, no matter the season or outdoor conditions, but they'll have the added benefit of predictable monthly costs, confidence in a system with an infinite life span, a tangible increase in property value, and the comfort of knowing they're leaving a reduced carbon footprint on the world.
The environment belongs to everyone and at Collecdev, we believe we have an inherent responsibility to invest in a forward-thinking approach that minimizes the adverse impact of development on the natural environment, and promotes a better tomorrow. Sustainability starts at home.
The winners of the 2019 BILD Awards will be announced at the annual gala on May 3, 2019. You can view the full list of finalists here.
READ MORE
The ultimate amenity guide to TRETTI
January 28, 2019
READ MORE
What makes Scandinavian design stand out is the ability to combine function with form, creating everyday spaces people actually want to use. When it comes to amenities, that means bidding adieu to token 'multi-use' rooms that sit empty for most of the year, and saying 'hej' to inspiring spaces that create natural gathering points for the entire community.
From a modern lobby that explores the boundaries between art and design, to an outdoor central community park, to a collaborative co-working space, Tretti offers something for everyone, keeping you inspired, connected, and engaged from morning til night. Here's a look at some of the amazing amenities taking shape.
For the digital nomad… an inspiring coworking space
If you're a member of the growing freelance generation, or a remote worker looking to get out of your pajamas and into a more social space, Tretti's co-working area is the perfect solution. The light-filled space offers varying levels of interaction, ranging from a private meeting room and cozy semi-private alcoves, to community tables, a play area, and a brainstorming lounge. Lightning fast wifi and a coffee bar keeps business running smoothly.
For the little ones… indoor and outdoor children's play space
Who says condo living can't be family-friendly? At Tretti, kids can take advantage of an indoor children's play area featuring floor-to-ceiling windows, cozy reading nooks, an indoor tree sculpture, and a stage where imaginations can run wild. Speaking of running, the outdoor kids' park is a landscape of miniature rolling hills, creating a safe and playful path under the sun.
For the nature lover… the community park
Studies show that people who have access to outdoor space live happier, healthier lives. We've taken that to heart. Step outside Tretti's front door and you'll find yourself surrounded by lush green space filled with oaks, pines, tulip trees, and paper birches. Connected to an amazing community park – 16,000 square feet of beautifully landscaped green space where you can unplug from technology and reconnect to nature.
For the hostess with the mostess… an elegant dining room and lounge
If you already love to entertain, Tretti will take things to a whole new level. The eighth floor party room features mood-setting indoor fireplaces, space for an elegant dinner party or a hands-on cooking class, and sumptuous lounge seating that encourages everyone to relax and kick up their heels (you included).
For the grill master… the rooftop patio
With such a short summer season in Canada, it's hard to believe we're such experts with the grill. But then again, Canadians aren't afraid of a little cold-weather BBQ, and with an outdoor fireplace and the sparkling city lights to keep you warm, you'll be looking for any excuse to head up to the rooftop terrace all year round.
For the fitness fiend… a state-of-the-art fitness studio and yoga space
A gym in the building makes it easier to stick to your health and fitness goals. A state-of-the-art fitness studio equipped with treadmills, bikes, elliptical machines, yoga space, and functional strength stations makes it pleasurable as well.
For man's best friend… a pet-friendly playground
When you can't stand the thought of braving the icy temperatures, but can't say no to Fido, why not try Tretti's pet-friendly indoor playground instead? Equipped with relief areas, a washing station, tree sculptures, and realistic turf, it's guaranteed to set tails wagging.
Register today for Tretti and discover a Scandinavian-inspired lifestyle in the heart of Wilson Heights.
READ MORE
Blogs
Enter password to view the broker portal